Conceal Carry Survival Techniques from Conceal & Carry School
(Requires Course Registration Form)
Bill designed this three-day course based on the curriculum he created for the TV show "Conceal & Carry School" as part of the Ruger "Don't Be a Victim series. This course covers the fundamentals required to select, maintain, carry and deploy a concealed handgun in self defense situations.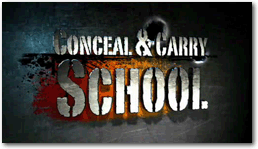 Topics Covered:
Basic Firearms Safety Rules
Grip and Stance
Pistol Handling and the Draw
Options for Concealed Carry
Drawing from Concealed Carry
Combat Mind Set - Mental Preparation
Staying in the Fight
How to pick a pistol for self defense
Marksmanship Principles
Stripping, Cleaning and Assembly - Weapon Function Test
Live Fire Drill
Immediate Action Drills
Dry Practice Drills
Weak Hand Drills
Weapon Retention and Disarming Drills
Unarmed Combat and Self Defense
House and Room Drills
Fight @ Night/Low Light Drills
On the Range:
Live Fire Stoppage Drills
Trigger Control and Sight Picture
3 yd. Drills
10 yd. Drills
25 yd. Drills
100 yd. Drills
Contact Drills
How to Build Up Speed - Man vs. Man
Static Turns
Moving and Shooting Drills
Use of cover and concealment
Barricade Drills
Students will need to bring:
A pistol or if you don't have one yet you can use one of our range guns.

850 rounds ammo or purchase from our Tactical Pro Shop. Please call ahead to be sure we have the ammo you need in stock.
A holster for your pistol or purchase one in the shop and again call ahead if you intend to buy one in the shop.
Force on Force Drills
Each student will need to have a t-shirt and sweatshirt as well as a pair of pants or jeans that can get stained and or torn for force on force training.