Primary Pistol Course Description
(Requires Course Registration Form)
This course will provide a foundation of weapon handling skills, tactics, and combat mind-set required to effectively deploy a handgun successfully in an armed confrontation. The handgun is principally a defensive arm and that is the emphasis of the training. Shooters of every skill level will benefit from this comprehensive pistol-fighting course. The two days of training are fast paced and mentally challenging.

"Epiphany - a sudden intuitive leap of understanding, especially through an ordinary but striking occurrence."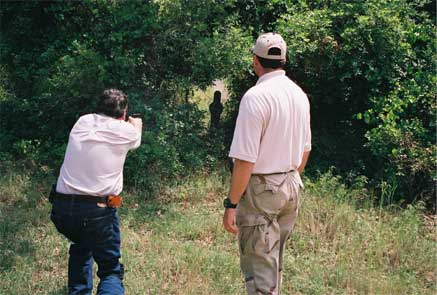 The "jungle run" requires near perfect execution of the fundamentals taught in the course to successfully complete.
Day one will be principally conducted in the classroom. Instruction will include comprehensive discussions on:
Safety
Weapon types and their suitability for defensive purposes
Caliber and ammunition selection
The response of the mind and body to the stress of an armed encounter
Marksmanship fundamentals
Immediate action and stoppage drills
Combat mind-set

Day two will be conducted almost exclusively on the range. The focus will be the application of sound shooting technique while on the move as required in a real gunfight. The chains of the typical static range shooting position will be broken and the ability to make effective hits during any direction of movement will be taught and reinforced.
Equipment – New, untested, fresh from the pistol smith weapons are not recommend. Bring what you carry. All weapon types are welcome. We believe that most students are best served by a standard capacity (13 plus rounds) 9mm pistol. Fine examples include the Para-Ordinance P18.9, Browning Hi-Power, Glock models 17, 19, and 34. Loaners are available. Bring a minimum of 4 hi-cap or 7 single stack magazines. The typical round count for this class is between 1000 and 1500 rounds. Be certain that the ammunition you bring for the course functions well in your weapon before getting to the class. A sturdy gun belt, kydex or leather outside the waistband holster, and a double magazine pouch are required.
The weather in north Texas can be extreme. The temperature in the summer months can exceed 100 degrees. Dress in loose light colored clothing and wear a wide brimmed hat. During the cooler months the temperature can range from the low 90s to well below freezing. Be prepared for anything. We suggest dressing in layers. We shoot rain-or-shine so bring rain gear. Bring two pair of comfortable shoes in case one is soaked by rain, mud, or sweat. Although this is not an athletic event the course is physical. Kneepads and shooting gloves will contribute to your comfort. Bring paper and pens for taking notes. Eye and ear protection are required. Suntan lotion, Ibuprofen, band-aides, first aide tape, and a lawn chair are a good idea.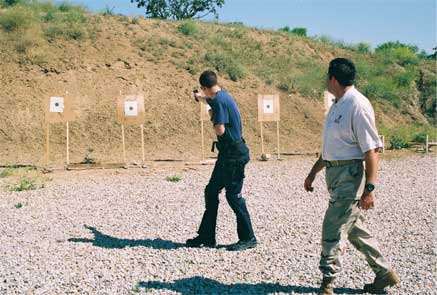 Developing the skills to shoot effectively while on the move is central to surviving an armed encounter.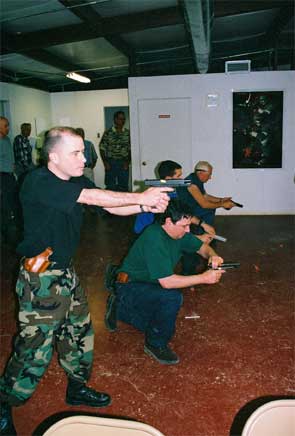 The ability to quickly clear stoppages is another critical skill set that is taught and reinforced throughout the course.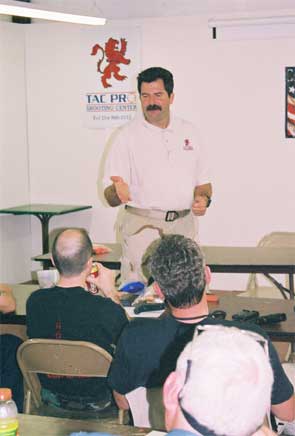 The classroom time is well spent with in depth discussions of every aspect of employing a handgun in a defensive situation reviewed.